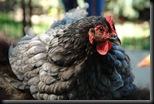 It's been only 4 months since the dangling testicles of truckhood incident, and I continue to see them from time to time. We went to South Carolina over the holidays, and saw them aplenty. Even funnier when it's a woman driving the truck.
Well Virginia lawmakers aren't going to take it anymore, and
State Del. Lionel Spruill introduced a bill Tuesday to ban displaying replicas of human genitalia on vehicles, calling it a safety issue because it could distract other drivers.
That means if you have a cock on your hood, you should probably take it off.
Now Playing: Megan Morrone and Leo Laporte – Jumping Monkeys January 2008 – Jumping Monkeys 29: Suzanne Kantra of Martha Stewart Living