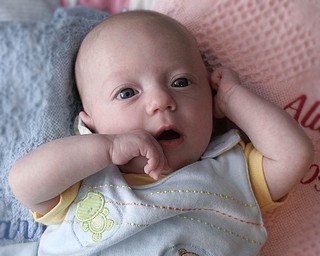 Had a great day yesterday. My father and his girlfriend came over for one of their semi-regular visits. We've seen them 3 times now, every two weeks. I'm glad that he was able to make some time in his schedule to come and visit his grandkids
We were also joined by our friends The Dunns. Jason brought his new digital Canon camera over, and we had fun taking some pictures of the kids. It was a learning experience, as the first batch of Alia were out of focus due to the AI in the camera constantly refocusing. Once we got that straightened out the second batch was much better.
Next time around we really have to work on the lighting though. Our hodgepodge of flash, floor lighting and bounced natural lighting didn't give us as much depth as we'd like. Plus, it meant we were fussing with lighting and spending less time making the kids smile. Taking children's photographs is an art unto itself. Mostly it requires lots of patience and experience. Granted, you still take shots with their eyes closed or their heads turned, but you have a standard set of poses to work with. our ratio yesterday was probably closer to 1 good for every 15 bad.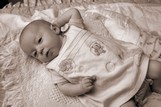 The hardest part was trying to do the pictures of them together and having them both smile or focus on the camera at the same time. In the end it was the single pictures that wound up coming out better.

It was a good first try though. We got enough decent stuff to make us (and more importantly the rest of the friends and family) happy for awhile. I probably even have enough shots to start working on a baby announcement.
It'll take some time to play with color balance, fix some of the soft focus, etc. But who knows what we can turn out in a week or so. What's important is that we took the first step in actually trying to pull something together and get motivated. I made a great collage of the photos you see here, added their names, and turned it into a wallpaper for my desktop.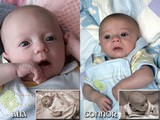 Now I can look at my smiling kids all day long! Oh, and I didn't even talk about the stupid dog. So we're all in the kitchen working on the photos. We've got the photographers, the grandfather, the baby handlers, the audience.. the works… what don't we have? Someone keeping an eye on the dog.
So Sebastian hangs out in the living room eating 2/3 of a tray of pepperoni and cheese. We come in at the plate has the near-perfect line of missing food on the lower 2/3 half. Why? Because that's all that his grubby little head could reach from the floot. Luckily we didn't come home from dinner to find the results of his little pepperoni-event all over his cage. I need to put 'puppy-handler" on my list of requirements for the next photo shoot.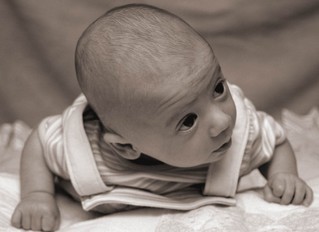 Hey, I just noticed that I lied to you.. the picture of connor on the wallpaper is his 'Connor Curious", not the smiley one… guess I gotta show that in full size too? Don't get mad that I have more pictures of Connor up here Alia. I'll make it up to you next time.
Also sorry for the jaggy layout of the images. One of the problems with images and html text and wrapping and the amount of space I have for the blog post.. guess you gotta deal with it. 🙂
[Listening to: Wake Me Up When September Ends – Green Day – ]
Current Mood:
happy