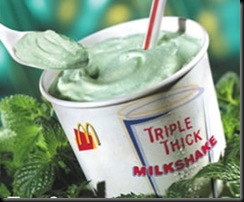 The best part about Smarch is that it's first letter is the same as the first letter of Shamrock Shake. So if you need a reminder, there it is.
I was going to post on how I just had my first SS of the season, but then I'd be lying. I had my first one *last week* and meant to write about it, but didn't. So I had my *second* one of the season yesterday and was again inspired.
Cammy and Leo reminded me (via Munchcast #23) that it was that time of year again. Even better, they turned me onto to Find the Shamrock Shake, a website dedicated to helping you find SSs in your area. I made sure to add Northfield, NJ and Egg Harbor Twp locations for others in need of a fix.
Did you know that in some places in this wonderful country of ours, they don't have Shamrock Shakes? The horror!!! That's ok, because there is an online petition to help bring it back countrywide, as well as a link to contact McD's directly and leave them feedback.
There was a time when McD actually had television commercials about them, when everyone carried them
Check on the Find the Shamrock Shake website for all the commericals, demented as they are.