Well, I'm finally going to do it. What you ask? I'm going to organize a purchase of original formula Dr. Pepper from Old Doc's Soda Shop in Dublin, Texas.
Here's why:
What makes Dublin Dr Pepper so different?

Dublin Dr Pepper is still made using the original sweetener, pure cane sugar. In the 1970s the price of sugar rose and soft drink companies started panicking because it was getting too expensive to produce their drinks using sugar. Virtually everyone switched to high fructose corn syrup because it was much less expensive.

The decision was made at that time to keep using the pure cane sugar, regardless of the extra expense. The Dublin Dr Pepper Bottling Company is the only Dr Pepper bottler that has always used pure cane sugar to sweeten the drink.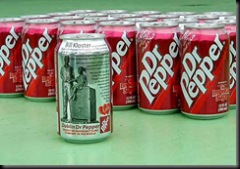 Steve and I first learned about it's history several years ago as we were researching Cream Soda for our Cream Soda Appreciation Club. Of course, we had to tell all of our friends who are big Dr. P fans as well. We kept promising to put in a group order. There is a limit to the number of cases you can order at a time, because of regional distribution regulations. I think the number was lower a few years ago, but the current limit is 20 cases.
Sure, folks could order it individually, but with an additional shipping cost of $5/2 cases, it makes sense to have one person coordinate everything and then just make the deliveries. I'm going to put in on my credit card and then get reimbursed.
Anyone else want in? Want to drink cane sugar soda at Pennsic in a few weeks?
Now Playing: Leo Laporte and the TWiTs – TWiT July 2007 – TWiT 103: The Good, The Bad, and The iPhone
Current Mood:
optimistic